Megan Roup slays at combining dance, cardio and body-toning moves in her Signature Class at The Sculpt Society. If you don't know Megan yet, she's responsible for Something Navy's Arielle Charnas looking like a straight-up supermodel this summer. See what I mean below:
https://www.instagram.com/p/BzsilFtAPlL/
Obviously, I'm jealous. Not only does she train Arielle, but the likes of Elsa Hosk and Shanina Shaik visit Megan's studio before their big Victoria's Secret runway moments. Guys, this is a Victoria's Secret workout routine. Let that sink in for a minute.
Scrolling through The Sculpt Society's Instagram page gives you an idea of the types of bodies Megan whittles into shape. And all of them look straight-up like models, whether they're walking the runway or not. I mean, if it's good enough for a Victoria's Secret model, it's good enough for me, right?
So, I put on my yoga pants and hauled my butt off to Megan's Signature class at Energi, despite having the dancing prowess of a slightly deranged Elaine.
Luckily, Megan's high-energy routine is laced with pure happiness and non-judgment. The trainer is all smiles as she leads the class through the 50-minute routine. Meanwhile, I'm sweating profusely and wondering if she'll notice if I just stop and pretend I'm working at it. Yeah, she does. I'm not lying, my clothes were soaked after class:
As someone who typically likes to lift weights at the gym, the 3-lb weight set threw me off. I assumed I'd be able to push through the routine with breeze. But at the end of pumping my arms to the beat, my shoulders, biceps, and forearms were feeling it! Why was I so wrong? According to Megan, "Most people who lift heavy have the same thought. 3lb's become heavy because we are doing higher reps with them at The Sculpt Society."
It's no secret to my family and friends that I am an anti-cardio gal. I'm just not into it. So, I try to get away with as little as possible in the week. Naturally, I had to find out what's the minimum I can get away with. I'm assuming if you do 50-minutes of this intense sculpt session, you're probably good to go for the rest of the year.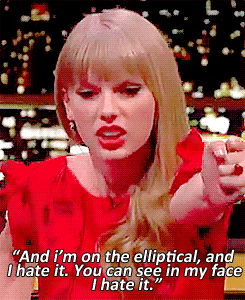 Sadly, doctors and fitness trainers alike disagree with me, and it seems like regular weekly cardio bursts are the norm. "For overall cardiovascular health implementing some cardio into your weekly routine is important," says Megan. "Find cardio you can have fun doing, that's why my go-to cardio is always dance!"
Wondering if it matters whether you work out morning or evening? Click here.
The bright side is you don't have to go full speed every single session. "If you hate cardio, I also offer a low impact sculpt class that still gets your heart rate up without jumping."
And if you travel often, she also offers shorter videos on her site!
"I tell clients to strive to get 20-30min of exercise on the road. That's about how long our attention span is when we are by ourselves, and they're the perfect amount of time to work up a sweat. My videos are extremely positive, and I am cheering you on the entire time. I think it's so important to find a workout and instructor you connect to, that way you're more motivated to stay consistent."
Once you're done with one of Megan's classes, make sure to complement it with yoga or a reformer pilates session. The trainer stresses the importance of keeping up a cross-training routine. Happy sweating, guys!